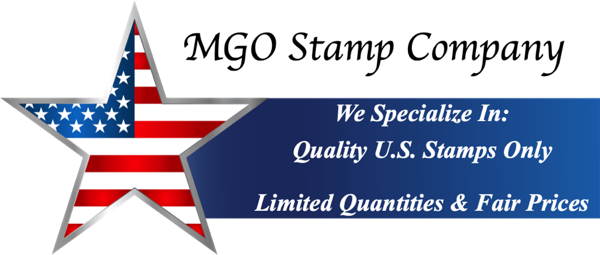 Welcome to The MountainGnome Outdoors Stamp Company.
We specialize in U.S. Stamps only. You will find a variety, of quality, MNH and USED STAMPS at MGO Stamp Company.

Don't find what you want? You can always contact us with your list. We consider all reasonable offers.

We Offer Discounts On Purchases Of 10+ Stamps
Just email us your list of 10 or more stamps, and we will send you a quote.
| | |
| --- | --- |
| M=Mint - U=Used - NH=Never himnged - H=Hinged - NG=No Gum - OG=Original Gum - P=Poor - AVG=Average - F=Fine - VF=Very Fine - EF=Extra Fine | Press "CONTROL + F" or "COMMAND + F" to SEARCH |
U.S. STAMP COLLECTION FOR SALE
Large U.S. Stamp Collection For Sale.
Early to Present U.S. Stamps ~ Mostly Mint ~ in 8 Premium American Heirloom Albums!
1936 to 2002 IS COMPLETE!
All Stamps in Scott Mounts.
Also Comes With a Large Stock Book Of Mint & Used U.S. Stamps ~ Many Doubles.
2019 Scott Value Is $20,000 Plus - Not Including The Stock Book.
*** I Am Taking Offers ***
CONTACT US
Download Complete Collection Inventory Report:
U.S. STAMP PDF REPORT
Click On Images To Enlarge
U.S. COMMEMORATIVE STAMPS NOS. 1-99

#63
$99.00-MH
$40.00-Used
Back To Top
U.S. COMMEMORATIVE STAMPS NOS. 100-199

#113
$175.00
MH-Avg/F
$40.00-Used

#114
$49.50
M-A/F
Regum

#124
$150.00
MH-A/F
Back To Top
U.S. COMMEMORATIVE STAMPS NOS. 200-299

#209
$4.00
Used-Avg/F

#230
$24.95
MNH-F/VF

#231
$14.95
MH-F/VF

#233
$65.00-MNH $25.00-MH

#234
$19.00-MH

#235
$19.00-M/NG

#236
$8.00-Used

#264
$1.25-Used

#279
$1.25-Used

#294
$16.00-MNH $9.75-M/LH

#295
$20.00-MNH $9.75-M/H $8.00 MHR $1.25 Used

#297
$34.50-MH $50.00
MLH-VF

#298
MNH-F-VF
$85.00 $45.00
MLH/F/VF $40.00-MH-VF/XF

#299
$125.00
MNH $70.00
M-VLH-F/VF
Back To Top
U.S. COMMEMORATIVE STAMPS NOS. 300-399

#300
$1.25
Used

#319
$1.25
Used

#328
$40.00
MNH/F/VF $32.50
MVLH-F

#372
$14.00
MNH/VF-EF $7.00 MH/F/VF

#398
$8.00
MH/F-VF

#399
$85.00
MNH/F-VF $19.75-MLH/F
Back To Top
U.S. COMMEMORATIVE STAMPS NOS. 400-499

#402
$1.75
Used

#405
$2.00
Used
Back To Top
U.S. COMMEMORATIVE STAMPS NOS. 500-999

#503
$1.25
Used

#504
$1.25
Used

#506
$1.25
Used

#508
$2.00
Used

#510
$2.00
Used

#530
$2.00
Used

#553
$3.00
MNH/F-VF

#560
$1.25
Used

#565
$1.25
Used

#567
$1.25
Used

#569
$1.25
Used

#581
$5.50
MNH/VF

#582
$5.50
MH/VF

#586
$5.50
MH/VF

#597
$4.00
MNH/F-VF
Back To Top
U.S. COMMEMORATIVE STAMPS NOS. 600-699

#600
$6.50
MNH/VF

#610 or 612
$1.25
Used

#617
$2.50
MH/VF

#618
$3.50
MH/VF

#619
$6.50
MH/VF

#622
$1.25
Used

#623
1.25
Used

#629
$3.25
MNH/VF

#634
$1.50
MNH/VF

#635
$1.50
MNH/VF Used - $0.60

#636
$1.25
Used

#638
$1.25
Used

#639
$1.25
Used

#640
$1.25
Used

#641
$1.25
Used

#642
$1.25
Used

#649
$4.00
MNH-F/VF $2.75
MLH/F-VF

#650
$3.50
MLH/F-VF

#653
$3.50
MLH/F-VF

#654 or 655
$1.25
Used

#657
$2.25
MNH/F-VF

#669
$6.75
MNH/F-VF

#670
$6.25
MNH/VF

#671
$6.25
MNH/VF

#672
$27.25
MNH/VF $15.25
MLH-F

#673
$12.75
MLH/F-VF

#674
$11.50
MLH/F-VF

#675
$25.25
MLH/F-VF

#676
$14.75
MLH/F-VF

#677
$35.00
MNH/VF $25.00
MLH-VF

#678
$27.25
MNH/VF $21.00
MLH-VG

#680
$1.25
Used

#682
$3.50
MNH-F $2.00
MLH/F-VF $1.25
Used

#684 or 686
$1.25
Used

#685 or 687
$1.25
Used

#688
$6.50
MNH/XF $1.40
Used

#690
$1.25
Used

#692
$1.25
Used

#693
$1.25
Used

#696
$1.25
Used

#699
$1.25
Used
Back To Top
U.S. COMMEMORATIVE STAMPS NOS. 700-799

#701
$1.25
Used

#702
$1.25
Used

#703
$2.00
MNH/XF

#704
$1.25
Used

#705
$1.25
Used

#706
$1.25
Used

#707
$1.25
Used

#708
$1.25
Used

#709
$1.50
Used

#710
$1.25
Used

#711
$1.25
Used

#712
$1.25
Used

#713
$1.25
Used

#716
$1.25
MNH $1.15
Used

#717
$1.25
Used

#718
$2.25
MNH

#720
$1.25
Used

#721
$1.25
Used-Coil

#722
$2.00
MLH/F-VF $1.25
Used-Coil

#723
$8.50
MLH/VF

#724
$1.25
Used

#727
$1.25
Used

#728
$1.25
Used

#729
$1.25
Used

#730
$30.00
MNH/XF

#732
$1.25
Used

#736
$1.25
Used

#737
$1.25
Used

#738
$1.25
Used

#740
$1.25
Used

#750
$3.00
MNH

#751
$3.00
MNH

#755
MNH-NGAI
$2.00

#756-65
$12.25
MNH

#756-65
$17.25
MNH/Imperf Pairs

#784
$1.25
Used

#786
$1.25
Used

#791
$4.75
MNH Block of 4 Used - Single
$0.60

#796
$1.75
MNH

#797
$1.50
MNH-XF
Back To Top
U.S. COMMEMORATIVE STAMPS NOS. 800-899

#804
$1.25
Used

#805
$1.25
Used

#806
$1.25
Used

#807
$2.75
MNH Block of 4 $1.25
Used

#809
$1.25
Used

#810
$1.25
Used

#811
$1.25
Used

#812
$1.25
Used

#813
$1.25
Used

#814
$1.25
Used

#815
$1.25
Used

#816
$1.25
Used

#817
$1.25
Used

#818
$1.25
Used

#819
$1.25
Used

#820
$1.25
Used

#821
$1.25
Used

#823
$1.25
Used

#825
$1.25
Used

#827
$1.25
Used

#829
$2.00
MNH $1.25
Used

#830
$1.25
Used

#831
$1.25
Used

#832
$1.25
Used

#837
$1.25
Used

#838
$1.25
Used

#842
$1.25
Used

#843
$1.25
Used

#846
$1.25
Used-Coil

#856
$1.75
MNH

#859-93
$13.75
MNH

#860
$1.25
Used

#864
$1.25
Used

#865
$1.25
Used

#866
$1.25
Used

#869
$1.25
Used

#870
$1.25
Used

#871
$1.25
Used

#872
$1.25
Used

#874
$1.25
Used

#875
$1.25
Used

#876
$1.25
Used

#877
$1.25
Used

#880
$1.25
Used

#881
$1.25
Used

#882
$1.25
Used

#884
$1.25
Used

#885
$1.25
Used

#886
$1.25
Used

#887
$1.25
Used

#889
$1.25
Used

#890
$1.25
Used

#891
$1.25
Used

#892
$1.25
Used

#899
$1.25
Used
Back To Top
U.S. COMMEMORATIVE STAMPS NOS. 900-999

#900
$1.25
Used

#901
$1.25
Used

#905
$1.25
Used

#906
$1.50
MNH

#907
$1.50
MNH

#908
$1.50
MNH

#909-21
$4.75
MNH

#929
$1.50
MNH Used - $0.65


#930
$1.50
MNH

#932
$1.50
MNH

#934
$1.50
MNH

#935
$0.65
Used


#936
$1.50
MNH Used - $0.65


#937
$1.50
MNH

#938
$0.65
Used

#939
$0.65
Used

#940
$1.50
MNH

#941
$1.50
MNH Used - $1.25

#942
$1.50
MNH Used - $0.65

#943
$1.50
MNH Used - $1.65

#944
$1.50
MNH

#945
$1.50
MNH

#947
$1.25
Used

#948
$1.50
MNH

#949
$1.50
MNH Used - $0.65

#950
$1.50
MNH Used - $0.65

#951
$1.50
MNH Used - $0.65

#952
$1.50
MNH Used - $0.65

#953
$1.75
MNH

#954
$1.25
MNH Used - $0.65

#955
$1.75
MNH Used - $1.25

#956
$0.65
Used

#957
$1.25
Used

#958
$1.50
MNH

#959
$1.50
MNH Used - $1.25

#960
$13.75
MNH

#961
$1.25
Used

#962
$1.25
Used

#965
$1.75
MNH

#966
$1.75
MNH

#967
$1.25
Used

#968
$1.25
Used

#969
$1.25
Used

#973
$1.25
MNH Used - $1.25

#974
$0.65
Used

#975
$1.25
MNH

#976
$1.25
MNH

#977
$1.75
MNH Used - $1.25

#979
$1.50
MNH Used - $1.25

#980
$1.50
MNH

#981
$0.65
Used

#982
$1.50
MNH Used - $1.25

#983
$0.65
Used

#984
$0.65
Used

#985
$1.25
Used

#986
$1.50
MNH

#987
Used
$1.25

#988
$1.50
MNH

#989
$1.25
Used

#992
$0.65
Used

#994
$0.65
Used

#995
$0.65
Used

#996
$0.65
Used

#997
$0.65
Used

#998
$1.25
Used

#999
$0.65
Used
Back To Top
U.S. COMMEMORATIVE STAMPS NOS. 1000-1099

#1000
$1.25
MNH

#1001
$1.25
used

#1002
$1.25
used

#1003
$1.25
used

#1004
$1.25
used

#1005
$1.25
MNH Used - $1.25

#1006
$1.25
used

#1007
$1.25
used

#1008
$1.25
MNH Used - $.60

#1009
$1.25
MNH Used - $1.25

#1010
$1.25
used

#1011
$1.25
used

#1013
$1.25
used

#1015
$1.25
used

#1016
$1.25
MNH

#1017
$1.25
MNH Used - $1.25

#1018
$1.25
MNH Used - $0.60

#1020
$1.25
MNH

#1028
$1.25
MNH

#1030-59a
$65.00
MNH

#1031
$1.25
MNH Used - $0.60

#1033
$1.25
MNH

#1034
$1.25
MNH Used - $0.60

#1035
$1.25
MNH Used - $0.60

#1036
$1.25
MNH

#1037
$1.25
MNH

#1038
$1.25
MNH Used - $0.60

#1039
$1.25
MNH Used - $0.60

#1040
$1.25
MNH

#1042
$1.25
MNH

#1043
$0.60
Used

#1044
$1.25
MNH Used - $0.60

#1044A
$1.25
MNH

#1046
$1.25
MNH

#1047
$1.25
MNH

#1048
$1.25
MNH

#1049
$1.25
MNH

#1050
$1.25
MNH

#1051
$1.25
MNH

#1052
$1.25
MNH

#1054a
$1.25
MNH Used - $0.60

#1058
$1.25
MNH

#1059A
$1.25
MNH

#1060
$1.25
MNH

#1061
$1.25
MNH

#1062
$1.25
MNH

#1063
$1.25
MNH

#1067
$0.65
Used

#1069
$1.25
Used

#1085
$1.25
MNH

#1090
$1.25
MNH

#1098
$1.25
MNH

#1099
$1.25
MNH
Back To Top
U.S. COMMEMORATIVE STAMPS NOS. 1100-1199

#1104
$1.25
MNH

#1105
$1.25
MNH

#1110
$1.25
MNH

#1117
$1.25
MNH

#1118
$1.25
MNH

#1122
$1.25
MNH

#1131
$1.25
MNH

#1132
$1.25
MNH

#1132
$2.50
MNH Block of 4

#1133
$1.25
MNH

#1147
$1.25
MNH

#1149
$1.25
MNH
Back To Top
U.S. COMMEMORATIVE STAMPS NOS. 1200-1299

#1205
$1.25
MNH

#1209
$1.25
MNH

#1213
$1.25
MNH

#1225
$1.25
MNH

#1229
$1.25
MNH

#1236
$1.25
MNH

#1242
$1.25
MNH

#1245
$1.25
MNH

#1246
$1.25
MNH

#1248
$1.25
MNH

#1249
$1.25
MNH

#1255
$1.25
MNH

#1256
$1.25
MNH

#1257
$1.25
MNH

#1264
$1.25
MNH

#1268
$1.25
MNH

#1269
$1.25
MNH

#1276
$1.25
MNH
Back To Top
U.S. COMMEMORATIVE STAMPS NOS. 1300-1399

#1311
$1.25
MNH

#1321
$1.25
MNH

#1336
$1.25
MNH

#1338a
$1.75
MNH

#1341
$1.25
MNH

#1356
$1.75
MNH

#1365-68
$2.25
MNH

#1384
$1.25
MNH

#1394
$1.75
MNH block of 4
Back To Top
U.S. COMMEMORATIVE STAMPS NOS. 1400-1499

#1414
$1.25
MNH

#1414a
Pre-cancel
$1.25
MNH

#1416a
Pre-cancel
$1.25
MNH

#1417a
Pre-cancel
$1.25
MNH

#1418
$1.25
MNH

#1418a
Pre-cancel
$1.25
MNH

#1440
$1.50
MNH

#1441
$1.50
MNH

#1442
$1.50
MNH

#1440-43
$2.75
MNH

#1444
$1.25
MNH

#1445
$1.25
MNH

#1448-51
$2.75
MNH Block of 4

#1471
$1.25
MNH

#1472
$2.75
MNH
Back To Top
U.S. COMMEMORATIVE STAMPS NOS. 1500-1599

#1507
$1.25
MNH

#1508
$1.25
MNH

#1538-41
$2.00
MNH

#1545
$1.25
MNH

#1546
$1.25
MNH

#1547
$1.25
MNH

#1548
$1.25
MNH

#1550
$1.25
MNH

#1551
$1.25
MNH

#1552
$1.25
MNH

#1565-68
$2.00
MNH

#1567
$1.50
MNH

#1568
$1.50
MNH

#1577
$1.25
MNH

#1578
$1.25
MNH

#1577-78
$1.50
MNH

#1579
$1.25
MNH

#1580
$1.25
MNH

#1581
$1.25
MNH

#1582
$1.25
MNH

#1584
$1.25
MNH

#1585
$1.25
MNH

#1591
$1.25
MNH

#1592
$1.25
MNH

#1596
$1.25
MNH

#1597
$1.25
MNH

#1598
$1.25
MNH

#1599
$1.25
MNH
Back To Top
U.S. COMMEMORATIVE STAMPS NOS. 1600-1699

#1603
$1.25
MNH

#1604
$1.25
MNH

#1611
$1.25
MNH

#1614
$1.25
MNH

#1615C
$1.25
MNH

#1616
$1.25
MNH

#1618C
$1.25
MNH

#1619
$1.25
MNH

#1623
$1.25
MNH

#1691
$1.25
MNH
Back To Top
U.S. COMMEMORATIVE STAMPS NOS. 1700-1799

#1701
$1.25
MNH

#1702
$1.25
MNH

#1703
$1.25
MNH

#1706
$1.25
MNH

#1707
$1.25
MNH

#1708
$1.25
MNH

#1709
$1.25
MNH

#1706-09
$1.75
MNH

#1721
$1.25
MNH

#1721
$2.25
MNH Block of 4

#1729
$1.25
MNH

#1730
$1.25
MNH

#1759
$1.25
MNH

#1768
$1.25
MNH

#1769
$1.25
MNH

#1770
$1.25
MNH

#1771
$1.25
MNH

#1772
$1.25
MNH

#1773
$1.25
MNH

#1774
$1.25
MNH

#1775-78
$2.00
MNH

#1795-98
$2.00
MNH

#1799
$1.25
MNH
Back To Top
U.S. COMMEMORATIVE STAMPS NOS. 1800-1899

#1800
$1.25
MNH

#1816
$1.25
MNH

#1822
$1.25
MNH

#1834
$1.25
MNH

#1835
$1.25
MNH

#1836
$1.25
MNH

#1837
$1.25
MNH

#1842
$1.25
MNH

#1843
$1.25
MNH

#1849
$1.25
MNH

#1850
$1.25
MNH

#1851
$1.25
MNH

#1852
$1.25
MNH

#1854
$1.50
MNH

#1856
$1.50
MNH

#1861-64 Blk
$2.50
MNH

#1861
$1.25
MNH

#1862
$1.25
MNH

#1863
$1.25
MNH

#1864
$1.25
MNH

#1867
$1.50
MNH

#1869
$1.50
MNH

#1894
$1.25
MNH

#1894 Blk
$1.75
MNH

#1898
$1.25
MNH
Back To Top
U.S. COMMEMORATIVE STAMPS NOS. 1900-1999

#1927
$1.25
MNH

#1927
$2.25
MNH Block of 4

1928-31
MNH
$9.00

#1939
$1.25
MNH

#1940
$1.25
MNH

1980YS
Partial
Year Set
$15.00
Back To Top
U.S. COMMEMORATIVE STAMPS NOS. 2000-2099

#2006-09
$2.50
MNH Block of 4

#2016
$1.10
MNH

#2019-22
$2.50
MNH Block of 4

#2024
$2.00
MNH Block of 4

#2027-30
$2.75
MNH Block of 4
Back To Top
U.S. COMMEMORATIVE STAMPS NOS. 2100-2199

#2111
$1.20
MNH

#2114
$1.20
MNH

#2116
$1.20
MNH

#2137
$1.20
MNH

#2168
$1.20
MNH

#2168
$2.20
MNH Block of 4

#2171
$1.20
MNH

#2171
$2.00
MNH Block of 4

#2172
$1.20
MNH

#2181
$1.20
MNH

#2181
$2.00
MNH Block of 4
Back To Top
U.S. COMMEMORATIVE STAMPS NOS. 2200-2299

#2250
$1.10
MNH

#2250
$3.00
MNH Block of 4

#2294
$1.50
MNH
Back To Top
U.S. COMMEMORATIVE STAMPS NOS. 2300-2399
Back To Top
U.S. COMMEMORATIVE STAMPS NOS. 2400-2499

#2422-25
$2.50
MNH

#2433
$1.50
MNH

#2443
$1.00
MNH

#2475
$1.00
MNH

#2479
$1.00
MNH

#2479
$2.00
MNH Block of 4
Back To Top
U.S. COMMEMORATIVE STAMPS NOS. 2500-2599

#2506-07
$2.50
MNH

#2507
$1.25
MNH

#2512
$1.25
MNH

#2512
$2.25
MNH Block of 4

#2524
$1.25
MNH

#2533
$1.25
MNH

#2533
$2.25
MNH Block of 4

#2567
$1.25
MNH

#2567
$2.25
MNH

#2579
$1.25
MNH
Back To Top
U.S. COMMEMORATIVE STAMPS NOS. 2600-2699

#2648
$1.25
MNH
Back To Top
U.S. COMMEMORATIVE STAMPS NOS. 2700-2799

#2731
$1.25
MNH-F

#2779-82
$3.00
MNH

#2791-94
$2.50
MNH

#2799-2802
$4.00
MNH
Back To Top
U.S. COMMEMORATIVE STAMPS NOS. 2800-2899

#2804
$1.00
MNH

#2805
$1.00
MNH

#2806
$1.00
MNH

#2812
$1.00
MNH

#2812
$2.00
MNH Block of 4

#2837
$1.00
MNH

#2841
$1.00
MNH

#2877-93
$13.00
MNH
Back To Top
U.S. COMMEMORATIVE STAMPS NOS. 2900-2999

#2903
$1.00
MNH

#2904
$1.00
MNH

#2904A
$1.00
MNH

#2957
$1.00
MNH

#2958
$2.00
MNH

#2960
$1.00
MNH
Back To Top
U.S. COMMEMORATIVE STAMPS NOS. 3000-3099

#3004-07
$2.00
MNH

#3014-17
$12.00
MNH

#3061-64
$3.00
MNH

#3077-80
$8.00
MNH
Back To Top
U.S. COMMEMORATIVE STAMPS NOS. 3100-3199

#3130-31
$1.75
MNH

#3141
$2.50
MNH Block of 4

#3198-3202
$2.50
MNH
Back To Top
U.S. COMMEMORATIVE STAMPS NOS. 3200-3299
Back To Top
U.S. COMMEMORATIVE STAMPS NOS. 3300-3399

#3379-83
$3.00
MNH

#3384-88
$12.75
MNH
Back To Top
U.S. COMMEMORATIVE STAMPS NOS. 3400-3499

#3420
$1.25
MNH

#3426
$1.50
MNH

#3427A
$1.75
MNH

#3432A
$1.75
MNH

#3433
$1.65
MNH

#3472
$1.55
MNH

#3496
$1.35
MNH
Back To Top
U.S. COMMEMORATIVE STAMPS NOS. 3500-3599

#3520
$1.50
MNH

#3521
1.50
MNH

#3522
$1.50
MNH

#3537-40
$3.50
MNH
Back To Top
U.S. COMMEMORATIVE STAMPS NOS. 3600-3699

#3620-25
$9.00
MNH

#3658
$1.50
MNH
Back To Top
U.S. COMMEMORATIVE STAMPS NOS. 3700-3799
Back To Top
U.S. COMMEMORATIVE STAMPS NOS. 3800-3899
Back To Top
U.S. COMMEMORATIVE STAMPS NOS. 3900-3999

#3916-25
$6.50
MNH

#3987-94
$8.50
MNH

#3987-94
$8.50
MNH/Singles
Back To Top
U.S. COMMEMORATIVE STAMPS NOS. 4000-4099

#4076
$5.50
MNH
Back To Top
U.S. COMMEMORATIVE STAMPS NOS. 4100-4199
Back To Top
U.S. COMMEMORATIVE STAMPS NOS. 4200-4299
Back To Top
U.S. COMMEMORATIVE STAMPS NOS. 4300-4399
Back To Top
U.S. COMMEMORATIVE STAMPS NOS. 4400-4499

#4422
$5.25
MNH
Back To Top
U.S. COMMEMORATIVE STAMPS NOS. 4500-4599
Back To Top
U.S. COMMEMORATIVE STAMPS NOS. 4600-4699
Back To Top
U.S. COMMEMORATIVE STAMPS NOS. 4700-4799
Back To Top
U.S. COMMEMORATIVE STAMPS NOS. 4800-4899
Back To Top
U.S. COMMEMORATIVE STAMPS NOS. 4900-4999
Back To Top
U.S. COMMEMORATIVE STAMPS NOS. 5000-5099
Back To Top
U.S. COMMEMORATIVE STAMPS NOS. 5100-5199
Back To Top
U.S. COMMEMORATIVE STAMPS NOS. 5200-5299
Back To Top
U.S. COMMEMORATIVE STAMPS NOS. 5300-5399
Back To Top
U.S. COMMEMORATIVE STAMPS NOS. 5400-5499
Back To Top
U.S. COMMEMORATIVE STAMPS NOS. 5500-5599
Back To Top
U.S. COMMEMORATIVE STAMPS NOS. 5600-5699
Back To Top
U.S. COMMEMORATIVE STAMPS NOS. 5700-5799
Back To Top
U.S. COMMEMORATIVE STAMPS NOS. 5800-5899
Back To Top
U.S. COMMEMORATIVE STAMPS NOS. 5900-5999
Back To Top
U.S. COMMEMORATIVE STAMPS NOS. 6000-6099
Back To Top
U.S. COMMEMORATIVE STAMPS ~ SOUVENIR SHEETS AND PANES ~ ALL MNH

#730 SS
$13.75
MNH/EF

#1686-89 SS
$12.95

#2216-19-SS
$8.50

#2765-SS
$6.50


#2869-SS
$7.50

#2975-SS
$7.75

#2981-SS
$5.00

#3000-SS
$8.00

#3068-SS
$9.75

#3072-76
$10.00

#3082-SS
$8.00

#3130-31-SS
$7.00

#3182-SS
$9.75

#3183-SS
$8.00

#3184-SS
$9.75

#3185-SS
$9.75

#3186-SS
$9.75

#3288-92-SS
$10.50

#3293-SS
$7.50

#3306-SS
$5.25

#3408-SS
$9.00

#3506-SS
$7.25

#3611 SS
$7.50

#3649 SS
$11.00

#3694 SS
$4.00

#3831 SS
$6.75

#3873 SS
$4.75

#3878 SS
$8.50

#3895 SS
$10.00

#3910 SS
$6.75

#3937 SS
$6.50

#3944 SS
$6.75

#3997
$11.00

#4084 SS
$14.00

#4099 SS
$8.00

#4143 SS
$11.50

#4159 SS
$15.00

#4423
$15.00
Back To Top

#C1
MH/AVG
$28.00 MH/VF
$35.00

#C2
MH/F
$35.00

#C3
MH/VF/No gum
$45.00 MH/F
$33.50

#C4
MH/VF
$31.50

#C6
MH/VF
$35.50 MH/F
$22.75

#C8
MNH/F
$5.50

#C9
MNH/F
$17.50

#C10
MNH/F
$4.75

#C11
MNH/F
$7.50

#C18
MNH/F
$23.50

#C42
MNH
$1.25

#C43
MNH
$1.25

#C44
MNH
$1.25

#C55
MNH
$1.25

#C61
MNH
4.25

#C65
MNH
$1.25

#C84
MNH
$1.25

#C85
MNH
$1.25

#C105-08
MNH
$3.50

#C112
$4.75

#C117
MNH
$1.25

#C131
MNH
$1.25

#C120
MNH
$1.25

#C121
MNH
$1.25

#C127
MNH
$1.25

#C130
MNH
$1.25
Back To Top
U.S. STAMPS ~ PLATE BLOCKS ~ ALL MNH

#956pb
$1.50

#957pb
$1.50

#1048pb
$4.85

#1051pb
$4.85

#1089pb
$1.50

#1107pb
$1.50

#1180pb
$2.00

#1232pb
$1.50

#1249pb
$1.50

#1315pb
$1.50

#1325pb
$1.50

#1335pb
$1.50

#1355pb
$1.50

#1358pb
$2.25

#1373pb
$1.50

#1391pb
$1.50

#1392pb
$1.50

#1414pb
$2.00

#1424pb
$2.00

#1425pb
$1.50

#1426pb
$1.50

#1431pb
$1.75

#1432pb
$1.75

#1444pb
$2.00

#1445pb
$2.50

#1468pb
$2.00

#1577-78pb
$2.75

#1582pb
$1.35

#1584pb
$1.25

#1597pb
$3.00

#1604pb
$1.75

#1605pb
$1.75

#1608pb
$2.75

#1632pb
$2.00

#1685pb
$2.00

#1725pb
$2.75

#1734pb
$3.00

#1744pb
$3.75

#1771pb
$3.75

#2024pb
$1.65

#2137pb
$2.75

#2146pb
$2.25

#2203pb
$1.75

#2249pb
$2.75

#2715-18pb
$3.50
MNH Block of 4

#C53pb
$1.50

#C58pb
$2.50

#C59pb
$2.00

#C71pb
$2.50

#C75pb
$2.00

#C90pb
$2.00

#C104
$4.95

#C109-12pb
$4.50
Back To Top
U.S. STAMPS ~ CONFEDERATE STATES of AMERICA
Back To Top
U.S. STAMPS ~ SEMI-POSTAL

#B1-Semi
Postal
$1.25
MNH

#B2-Semi
Postal
$1.25
MNH
Back To Top
U.S. STAMPS ~ SPECIAL DELIVERY

#E16
$1.25
MNH/VF-XF
Back To Top
U.S. STAMPS ~ REGISTRATION
Back To Top
U.S. STAMPS ~ POSTAGE DUE

#J81
Postage Due
$1.25
MNH

#J89
Postage Due
$1.25
MNH

#J90
Postage Due
$1.25
MNH

#J91
Postage Due
$1.25
MNH

#J92
Postage Due
$1.25
MNH

#J93
Postage Due
$1.25
MNH

#J94
Postage Due
$1.25
MNH

#J97
Postage Due
$1.25
MNH
Back To Top
U.S. STAMPS ~ PARCEL POST
Back To Top
U.S. STAMPS ~ OFFICIAL MAIL
Back To Top
U.S. STAMPS ~ REVENUE STAMPS

#R24
$1.25
USED-F/VF

#R229
$1.50
USED-F/VF

#R232
$2.00
USED-F/VF
Back To Top
U.S. STAMPS ~ HUNTING PERMIT STAMPS
Back To Top
U.S. STAMPS ~ NEWSPAPER & PERIODICAL

#PR11
$60.00
M/AVG/NG

#PR14
$250.00
M/H/OG/AVG

#PR60
$45.00
M/NG/F
Back To Top
U.S. STAMPS ~ FULL SHEETS

#950
MNH
$17.00

#952
MNH
$21.00

#969
MNH
$13.75

#982
MNH
$12.25

#983
MNH
$12.25

#987
MNH
$13.25

#992
MNH
$19.50

#996
MNH
$19.50

#1357
MNH
18.50

#1409
MNH
$14.25

#1565-1568
MNH
$12.75

#1732-1733
MNH
$20.50

#1805-1810
MNH
$25.00

#2048-2051
MNH
$14.75

#3106
MNH
$20.00
Back To Top
U.S. STAMPS ~ MISCELLANEOUS STAMPS
Back To Top
PAYMENT METHODS ACCEPTED:
Personal Check - Postal Money Order
PayPal
NEVER SEND CASH!
CONTACT US

Send Payments To:
Stanley Koziol
24817 County Road 47.5
Boncarbo, CO. 81024
719-859-1960